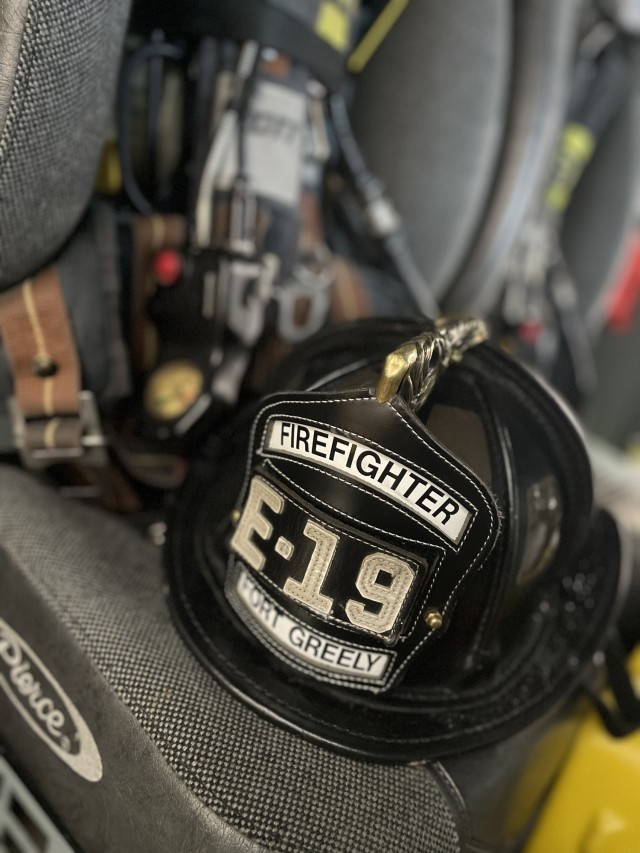 SAVED: Greely first responders extract victim from river's deadly grip
FORT GREELY, ALASKA — They look down toward the water, but darkness envelops their vision. Life hangs in the balance. Their breath is ice cold, and fear is palpable as they wonder, "Were we one minute too late?"
As Alaskans wake up to an otherwise normal winter morning in the unforgiving heart of Alaska's rugged interior, this nightmarish scenario becomes a reality for a group of seasoned firefighters and rescue personnel working on one of the most remote military installations in the world. Some people are sipping their coffee, getting their daily dose of social media … others may be warming water for livestock. For one young woman however, a momentary lapse in judgement has caused dire consequences, and these firefighters … their rope … is her only chance of survival.
At 5:53 a.m. Saturday, Feb. 18, Fort Greely's firefighters awaken to the amplified sounds of their dispatch radios. "Body in the river … trapped on the ice …" The team is familiar to distress calls, but this one is different. They learn a young female Air Force Airman has fallen 30 feet from Delta Junction's Tanana River Bridge, and miraculously landed on a very small piece of ice on the bridge's west side. With ominous, swift-river water flowing on either side of her, one wrong move means certain death. Hypothermic, and suffering from life-threatening injuries, she needs help … and she needs it now.
Ten miles away at the fire department, first responders jump into action. Hearts are pounding, with every single one of them excited for the possibility of putting their daily training to the ultimate test. Within seconds they have gathered in the bay. Assistant Fire Chief Tony White knows he must choose some to go, and some to stay. Realizing his selection is critical to mission success, he looks out amongst his crew in quick observation.
"When the call came in that we were needed at the river … I looked into the bay … at my team, and realized I was blessed, God blessed us with the right crew that day," he said.
Eight firefighters dispatch and are laser focused as they exit Greely heading north toward the mighty Tanana River. The luminous night sky passes them, as daylight has not yet decided to make its entrance. Sirens are blaring as the engines from Fire Companies 9 and 13 grip the icy highway. The ride provides just enough time for the team to recognize the gravity of their upcoming rescue, but not enough to overthink. Since White needs to remain behind, Firefighter Capt. Brandon Doherty is now in charge … and his emotions are running high.
"We were 90 percent excited … 10 percent scared … with those percentages flopping back and forth constantly … we didn't really know which emotion was which the entire time," he said.
Although it feels like an eternity, the team arrives to the scene at 6:16 a.m. and immediately begins to assess the situation with local, emergency personnel, and time is not on their side. The victim is deteriorating quickly, but remarkably still breathing. The units are able to formulate a plan in record time, and Firefighter Capt. Justin Cotton will be on the rope. Hearts are beating hard, but this team is ready to risk it all without hesitation. They are trained … they are ready. Setting trepidation aside, Cotton gears up and locks in. He steps over the rail and descends into the darkness.
"On calls like these, I sort of disassociate a bit and try to stick to our training … stick to the script of what we do every day," he said. "I'll self-critique later."
Relief rushes over him like ocean waves as he hears the dull sound of his boots hitting the ice. To him, this means the hardest part of the mission is complete. Looking at the victim for the first time, he hears her murmur, "Can you help me?" His reply is swift and confident. "My name is Justin … yes, I can help you."
The victim hypothermic and shocking, Cotton realizes he's working against the clock. He masterfully balances safety and speed while staying in constant communication with his team 30 feet above. Within minutes, the victim is safely attached to a second rescue line and ascends to the team that is meticulously preparing for her arrival.
"It's really amazing that Brandon had the foresight to position the ambulance to the north with the liter directly under the rescue line," White said. "This allowed for us to move the victim from the rope, to the liter, and into the ambulance saving critical minutes."
Although the victim is safely in the ambulance, she is not out of the woods. A 90-mile drive through Alaska's steep mountains to Fairbanks Memorial Hospital awaits her. It's a good thing she is in the best of hands. Fort Greely Firefighter Stephanie Lukens has been prepping the ambulance since the team's arrival to the bridge, and she's determined to do exactly what the victim needs her to do.
"We knew she was going to be cold … we knew she was going to have injuries … so we got fluid packs on the heater, and made sure everything was ready so that she could warm up," she said.
What seems like a normal day at work for this team of heroes is not lost on Garrison Commander Lt. Col. Joey Orr. He knows these teams are capable of the miraculous because he knows their track record. But this rescue is different … this is a rescue for the record books.
"I am proud and honored to serve alongside such selfless people," Orr said. "This rescue is just one in a list of achievements for these first responders. They are skilled, they are professional, and in my honest opinion, simply the best of the best."
With the victim in safe hands and heading northbound, the rest of the crew is breathing sighs of relief as they return to their department, and the teammates they left behind to only listen in on the radio as their fellow firefighters surgically extracted the victim.
It's 7:02 a.m. and the sun is rising, their spirits are high, and the camaraderie is tangible. Talks of coffee and breakfast fill the vehicle … almost as if they hadn't just executed a rescue mission in the dead of winter, dark of night, atop an ice-covered river. It's a job well done, but it's one they train and live for. The fire engines reverse into their bays to an audible beep, beep, beep, and in this moment, all is right in the world. Until the next call … interior Alaska can rest assured Fort Greely Fire Department stands ready at a moment's notice.