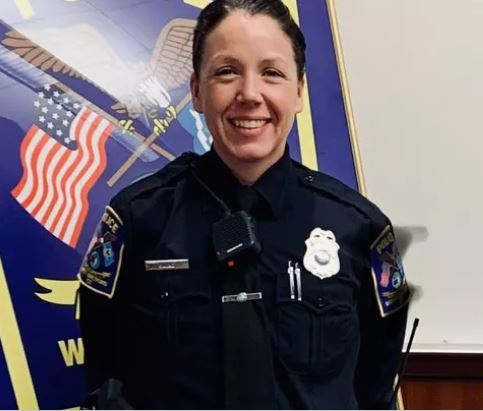 On January 21, 2021, Officer Susie Kulas would leave for work that morning and not return home that night to her children. She would ultimately land in the ICU intubated due to a life threatening reaction to a vaccine, life as she knew it would never be the same.
Officer Kulas dreamt of being a police officer since she was a tiny girl. She put her dreams on hold to raise her family. When her dream finally became a reality she was 39 years old. She was hired by a municipal Police Department on 11/01/2019. Despite being an older candidate, she started the CT Police Academy. For 6 months she lived at the CT Police Academy, celebrating her 40th birthday there. She was determined to show her kids that you never give up on a dream. With pure determination, she set a very strong example for her young children. Susie was born to help others and she has done so her entire life.
Officer Kulas was enjoying the beginning of her career as a new Police Officer when the COVID-19 pandemic began. Like many in law enforcement, she continued to go to work every day, no matter the risk. Then on January 21, 2021, her world would be turned upside down. Susie suffered anaphylactic shock from a vaccine and was transported to Hartford Hospital. The fact that Susie survived is a miracle, but unfortunately it was just the beginning of her battle. Every part of her body has been impacted. Cardiovascular, Pulmonary, Neurological, and Vascular just to name a few. She has had multiple vocal cord surgeries to repair damage done by intubation. She has had speech therapy to regain, a still, very strained voice. Susie faints and has seizures almost daily. She had to have a port put in for the multiple treatments she needs. Susie is in and out of the hospital for procedures to help stabilize her current health crisis. Her vision and mobility have been affected. She has broken numerous toes falling and has sustained several other injuries. Through it all Susie fights daily to regain her former life and get back to work. Due to the pandemic, she has fought this battle mostly alone. She is too weak and susceptible to illness to see people. Only a few friends and family have been her lifeline to the outside world.
In February 2022, Susie caught an infection from a hospital procedure due to a foreign body. Several doctors and specialists have not been able to get rid of the infection. The list goes on and on of what she faces daily. Yet she only thinks of everyone else, she is her family's hero and still remains positive.
Officer Kulas is a single mom to six amazing children. Three of her children are under 13 years old and live in the home with her. Her youngest child also has special needs. Not once has Susie ever complained or asked for help. So we are asking for help for her. The financial burden is huge. The medical bills, inflation and her fixed income are taking its toll on her family. Her home is falling into disrepair and she's struggling to keep food on her table.
Susie is a true warrior and just a good human being. She has never lost her drive to win this war on her health. All she ever talks about is getting her life back and putting on that uniform again. Please help us, help her and her family.
UPDATES
January 16, 2023

So far Susie is infection free with the removal of the foreign body object. This is huge!! Unfortunately Susie had a massive set back at Yale last week. She has been waiting on a big treatment that she couldn't have till her infection was gone. Her current port can not be used for this treatment as it requires a much stronger double port. She needs two working veins for the Yale treatment and not a single vein could be accessed. This was a devastating set back. Yale is willing to try one more time but the odds are against her, she has a port because her veins are not good so to get two, to work, will take a miracle. Susie will not give up, most would have crumbled with what she went through last week at Yale, but instead she asked for them to try again no matter how bad it hurt and no matter how the odds look. From the outside you would never know what her body faces. She shows all strength when she has every right to break down. We THANK YOU!!!! You are all amazing! Please share her story again! Maybe a local business will see it and step up to help around her home or maybe someone else who is struggling will see it and gain hope to keep fighting just like her!!! There is no quit in her, even if her body gives in, she will not! Please share! We LOVE ALL OF YOU!!

Our girl has been resting since last Friday's surgery. She was very wiped out and has pain but she will take the pain if it rids her body of the awful infection she has been living with since Feb 2022 with not much relief! The foreign body was removed and if the infection clears now and stays gone for at least a month Susie will get to go to Yale for treatments to help stabilize her health and body! She NEVER stops fighting and wants back into her uniform to help others! All we want is to see her be able to stay in her home with her children but times are very hard financially with all she has gone through. WE ARE SO THANKFUL FOR ALL OF YOU!!!! Please share her story and share it again! You are all amazing! Susie would never ask for help, she fights solo which is why we are now fighting for her!!!! Have a safe and Happy Holiday and hug your loved ones extra tight!!!

---
First responders are always ready to help out when the call comes. Sometimes, these heroes experience hardship. Our Heroes Fund is there to provide financial assistance in that time of need. Please consider donating to OurHeroesFund.org so that we may help our first responders when they are down. Thank You!